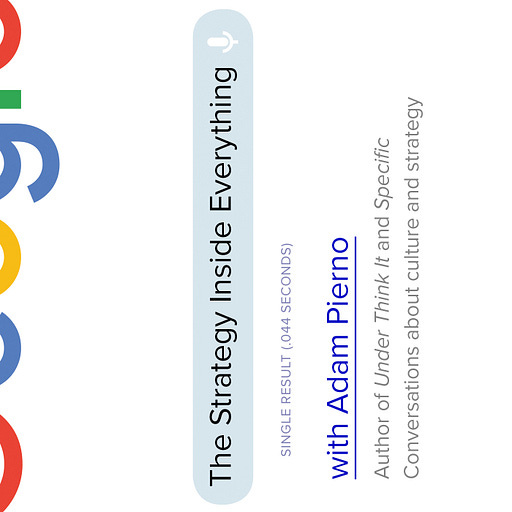 Dec 1, 2020 • 42M
Understanding aspiration with Nadia Tuma-Weldon
Adam Pierno brings in guests to dissect events in culture, art, politics, business, sports and beyond to discuss the strategy driving it.
I write about culture, media and creativity and talk to people who think strategically for a living. Subscribe below for updates.
For some of us, the last 9 months have been times of tremendous upheaval and sacrifice. There have been hundreds of thousands of lives lost, millions of jobs lost. But some parts of the business world continue their progress as if nothing has changed. Some (ahem, Amazon) have actually pulled forward, taking advantage of their lead in technology and delivery to become even more useful to their customers.
I've personally experienced some of both. But things are basically unchanged in the world of luxury. The people who can afford to shop luxury products and brands, I mean really afford it, have experienced little change to their lives. It must be odd, I imagine. They could act as if nothing has changed, except - it would be in incredibly poor taste for those who care about such things. In an America where we've become ok with 'If you've got it, flaunt it' capitalism, it must be very strange to have it and not be sure if you're supposed to flaunt it.
In the short run, I doubt it hurts the luxury brands that best serve the wealthiest consumers. But in the long run, the Givenchy's and others who have dined on being made visible by high profile customers and influencers have had to move down market, hosting (pretty terrible) shows and shoots on social media, using people in their own, non-glamourous, environments.
It raises all kinds of questions? Is it still worth it if no one can see it? Who on earth dresses this way alone in there sad apartments? And perhaps the biggest question: What does liking a post featuring Kim K posing at home in a Givenchy outfit while a quarter million Americans have died and millions more are desperate for work?
I spoke with Global Luxury Practice Lead at McCann World Groupand Global Director of McCann Truth Central, Nadia Tuma-Weldon. She's spent years researching and understanding luxury consumers and brands. Nadia has a fantastic perspective on why we choose what we choose, and how aspiration for luxury serves as the ultimate distillation of aspiration that many brands can learn from. We discussed some of what's changed and some of what is the same.
Transcript is available here: http://adampierno.com/?p=1677
Want to read some fiction? I am testing a new novel, Negative Edge. You can read it for free here: https://www.wattpad.com/962487826-negative-edge-blinking-cursor