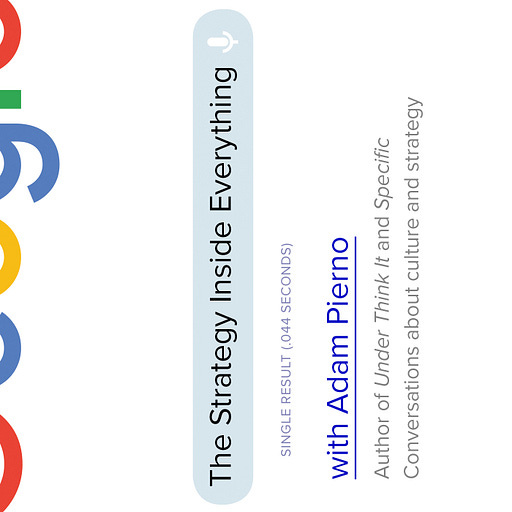 Jun 8, 2021 • 45M
Nick Childs helps tell your story
Adam Pierno brings in guests to dissect events in culture, art, politics, business, sports and beyond to discuss the strategy driving it.
How much do you really understand why you're work is successful? Do you really know what works and what doesn't? What if all the knowledge you had was somehow trapped in your mind because you hadn't figured out how to communicate about it. When I was learning to lead strategy teams, I wrote Under Think It. It was as much a document about how to share the information I had as it was about the information itself.
Working directly with small and independent companies, I realized how much of a gap there is in the language used by big brands and small companies. I wanted to figure out how to document the work, so small businesses could more easily benefit. Starting this work, I ended up creating an online course for small businesses who have been shut out of brand building. The course, based on Specific, is available now.
This first version is for small businesses with physical locations or providing a person-to-person service to customers - not ecommerce. I'll be adding that in future editions. If you're a listener, or if a listener clever enough to copy/paste a link, you can save 15% off the cost of the course.
I spoke with Nick Childs, who is also helping people better tell their story. He's a lifelong creative and leader putting together ads and communications on the biggest stages. He's pretty much seen it all.
Now he's started DIRT, a new method for better understanding what works about creative so we can get better at telling stories and driving results (if that's your thing). I am always interested in new possibilities created by research, so I geeked out a little. FYI, I'll be following up for more info on DIRT for my own projects.
Want the transcript? Head on over yonder and read it on up: https://www.adampierno.com/nick-childs-helps-tell-your-story/