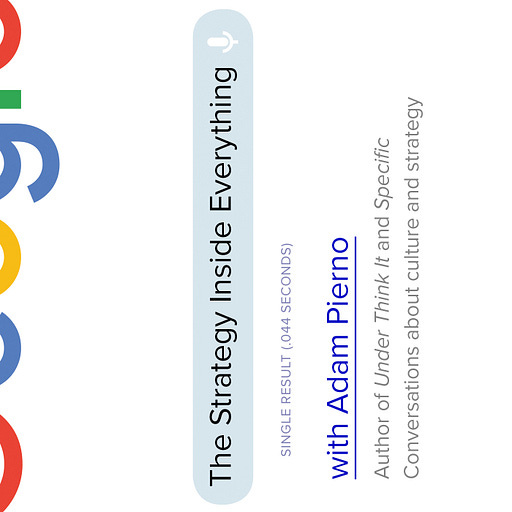 Nov 19, 2021 • 41M
Charlie McKittrick is exploring space
How he and leaders at Mother are thinking about creative entrepreneurship
Adam Pierno brings in guests to dissect events in culture, art, politics, business, sports and beyond to discuss the strategy driving it.
I had to take a break from publishing. Truth, I got extremely busy at my full-time job, some challenging freelance strategy projects for brands, and little disinterested in extra effort beyond all of that.
The Strategy Inside Everything is a reader-supported publication. To receive new posts and support my work, consider becoming a free or paid subscriber.
Thanks for hanging in there while I paused. When I tried to turn the podcast and newsletter machine back on, nothing really happened. Like a lot of procrastination, I assumed it was all about the build up of imaginary pain that prevents me from starting certain work or tasks. But as I waded back into production (real producers would be offended to my version of the craft) I paid attention to each step in the process at what I liked and didn't like.
Honestly, I started this podcast and I continue it for my own selfish purposes. I do it to speak to and learn from smart people. People who are experts in their field, or who have information I find interesting or have questions to work through together. That learning is the part I care most about, followed by the conversations that kick off with people who listen after (nearly) every episode. Everything else, meh. Coordinating schedules, recording, editing, transcribing, blech. Even writing this letter, until my fingers touch the keys was just overwhelming me.
So here's my request - tell me what parts you like and what you can live without. I did a Twitter and Linked in poll (very scientific) and less than 30% of people said they ever read transcripts. But if a single person tells me they personally read transcripts of this show, I will continue doing them.
The good news is I've got new conversations lined up, and I'm excited. If you have a guest you'd like to hear on the show, please send them my way. On this episode, Charlie McKittrick joined me and I was so happy for the opportunity to speak with him. He's seen creative business from a lot of perspectives, and he's now CSO and Managing Partner at Mother, and agency I've long admired (and so have you). His energy for understanding creativity and finding the ways and the space for it to flourish is contagious. He and the very smart people at Mother are working together to learn from the last extremely bizarre 20 months and try new ways to inspire, motivate and respect agency professionals and partners to continue meeting their high standards for results.
I would love your feedback on this episode, the show and the letter above. Please @ me on Twitter or email me (adam@adampierno.com). Big favor - choose a favorite episode of the show and share it directly with someone you know. More listeners means more conversation.
There's no transcript this time. Let me know if you miss it, personally. Have a project you want some help with? Please reach out.