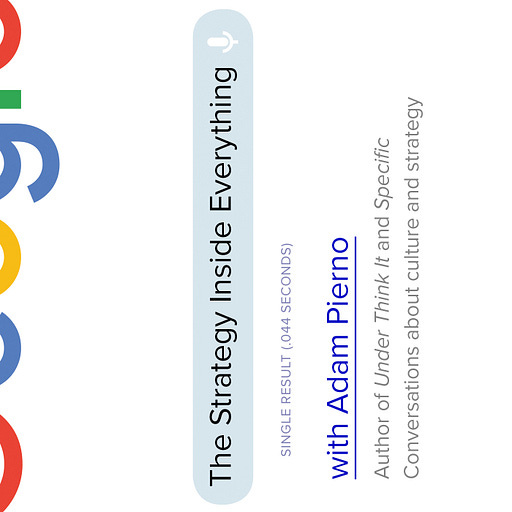 May 12, 2021 • 38M
Getting Thas Naseemuddeen's incredible perspective
Adam Pierno brings in guests to dissect events in culture, art, politics, business, sports and beyond to discuss the strategy driving it.
Most industries work in teams. The recent adaptation to the way we work has affected our approach in some simple and profound ways. As I've spoken to strategists and marketers, I've learned that this has impacted the way their assignments happen, or maybe just the way they feel. Work, or parts of work that was formerly done by teams in shared space or at least shaped or nurtured in hallway conversations, has become solo work. Passed from person to person digitally, like an assembly line, in which each person is not always clear on what they are meant to add to the product. It can all feel a bit lonely. Ultimately, each person has a role and a responsibility to the project. What decisions one makes probably hasn't changed. But they may feel more isolating, and more revealing about what is at stake in each case.
When you listen to a choir, it's not always clear who is performing which part, while reviewing the 16 track recording tells you exactly who is doing what. Remember, we all dislike the sound of our own recorded voice. So it is with work, we want to know how what we do, what we decide fits in to the bigger picture, how our role contributes to the bigger result. When Thas Nuseemuddeen joined me for the following chat, she revealed a deep intelligence and curiosity about an incredible array of subjects. She casually dropped insightful comments faster than I could take notes. I realized in her role as CEO of Omelet, she is the type of leader thinking about challenges like these that her team may be facing. I never even asked, when she said something I've been thinking about deeply since: Making these decisions can be very lonely. Thas has a perspective on how all the parts of the choir should sound together, and we're fortunate to hear how she thinks in this episode.
Links:
https://www.linkedin.com/in/thasnaseemuddeen
https://twitter.com/thaz7
You want to read for yourself? Fine. Go then. Transcript: http://adampierno.com/getting-thas-naseemuddeens-incredible-perspective/