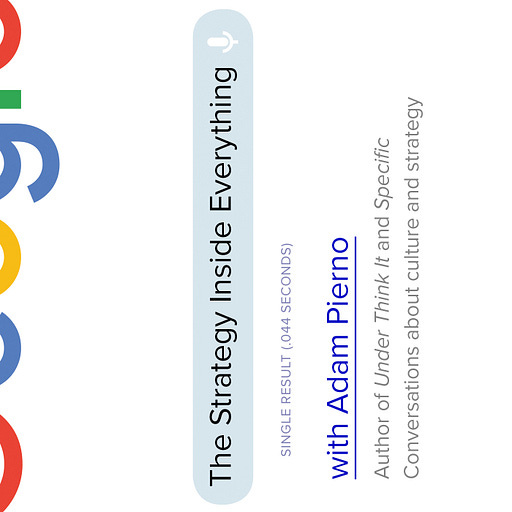 Mar 16, 2021 • 42M
Brianne Fleming connects pop culture to brands.
Adam Pierno brings in guests to dissect events in culture, art, politics, business, sports and beyond to discuss the strategy driving it.
When I write down my influences, I'm often pretty embarrassed. Terrible stuff like 80's metal, schlock horror and comedy like Mr. Show inform some of my basic sensibilities. Despite a college education and continued study, the academic and arts portion of my influence pie chart is hovering at about 20% on a good day. I'm able to draw from those sources when I'm in work mode, or if I take the time to think (remember having time to think?).
Mostly, I've been adrift in a sea of pop culture and associated references. Now, that full of things I like, things the audiences that I'm studying like, things my kids like, and all the memes. In the absence of monocultural events, we've each become one of one in terms of our influence and application of those. One interesting development over the past year is the decline of American celebrity culture and gossip. Without mass pop-culture events and gatherings, the celebrity industrial complex has been vanishing like Marty McFly's siblings in his photo, circa 1955.
As we return to normal activities, there are signs that people are anxious to return to theaters for movies and concerts. No doubt, there will be a return of the TMZ and other outlets along with this, and I'll be watching to see what it is shaped like now that we've had some time away from the onslaught of meaningless BREAKING NEWS on E! about a celebrity project announcement or breakup. I haven't missed it, and wonder if others will embrace its return. I suspect they will welcome the return of a meaningless distraction.
I spoke with Brianne Fleming, who consults brand and is an instructor at the University of Florida, about her love for pop culture and how she applies the lessons she learns in pop culture to branding. I really enjoyed the chance to chat with her again as her pop culture territory is wholly different from mine.
Read this episode's transcript on adampierno.com: http://adampierno.com/brianne-fleming-connects-pop-culture-to-brands/
Links:
https://twitter.com/brianne2k
https://anchor.fm/brianne2k/episodes/Pelotons-Pop-Culture-Brilliance-w-Christina-Garnett--Adam-Pierno-eodtpp/a-a48ca3c